Posted on 26th Jul 2016 @ 9:53 AM
As we all know that jammers can block the transmission of signals from the relative networks. Signal frequencies in most people's mind are some like 2G, 3G, or 4G cell phone signals, because they are closely related to their daily life. What do you know about UHF and VHF? Then what are UHF/VHF Jammers used for? In fact, UHF and VHF are also commonly used in our life. And UHF/VHF signal jammer has its frequencies tuned in the special way,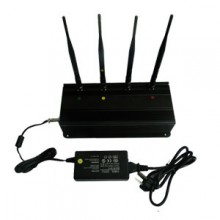 What are UHF and VHF frequencies?
UHF(Ultra high frequency) and VHF(Very high frequency) are considered to be the low frequency bands which frequencies are VHF 140-180MHz and UHF 420-480MHz. These bands are used by various electronic devices in our daily life. UHF frequencies are used for television broadcasting, cell phones, satellite communication including GPS, personal radio services including Wi-Fi and Bluetooth, walkie-talkies, cordless phones, and numerous other applications. VHF frequencies are used for FM radio broadcasting, television broadcasting, two way land mobile radio systems (emergency, business, private use and military), long range data communication up to several tens of kilometers with radio modems, amateur radio, and marine communications. Air traffic control communications and air navigation systems (e.g. VOR, DME & ILS) work at distances of 100 kilometers or more to aircraft at cruising altitude. Also it should be mentioned that UHF and VHF frequencies are lower than GSM and GPS, so they couldn't be blocked by those types of jammers.
what are UHF/VHF Jammers used for?
The working principal of UHF/VHF Jammer is very similar to GMS jammer as it is aimed at blocking signals, which is designed to block UHF and VHF frequencies from receiving or sending signals and thus disable walkie-talkie gadget, radio, audio bugs etc. It is highly applicable for anyone to protect themselves from being tracking or eavesdropping etc.
Firstly, UHF/VHF Jammer helps you get away from noise of walkie-talkie. Walkie-talkie is now not only used in military, but also in our life, such as children's toys, and what else is staffs in stores use walkie-talkies communicate for information without moving. If there is annoying noise of walkie-talkie around you, UHF/VHF Jammer will well solve this problem.
Secondly, UHF/VHF Jammer protect yourselves from being tracking or eavesdropping. Nowadays we can observe a huge amount of surveillance devices which are everywhere, which use UHF and VHF frequencies. If you don't want to be tracked, you may buy UHF VHF jammers blocker to block signals of those surveillance devices.
20W High Power 4 Antenna UHF VHF Signal Jammer for You
This jammer is the newly develop high power UHF/VHF jammer extreme cool edition designed to work for frequency 144-160MHZ, 161-174MHZ, 420-450MHZ, 451-480MHZ, professional mixed jamming solution for all standard UHF/VHF bands. This high power UHF VHF signal jammer is up to 30 meters according to the signal strength in the detailed place. Thus since this UHF VHF signal blocker owns the desktop designed and powered by the power adapter it is only suitable to be used in the certain places and not portable.
More details please turn to our website www.jammerinthebox.com. You will find lot of talkie signal blockers and choose the best one especially for you.